Roselle (Hibiscus sabdariffa) is an edible annual bush we grow at h.e.a.r.t. and is one of my favorite plants. Every time I bring someone new to the garden I want them to taste it. Sometimes it takes a little convincing, but when they finally do, they are never disappointed. Its leaves are eaten all over the tropics and it also produces edible calyxes (flower bracts, pictured above) that make tart and fruity tea, juice and jam. Even kids love it and say the leaves taste like a sour candy! You know it's good when kids are asking to take home their own plant! Here is a recipe for a sparkling roselle juice. You can buy the dried calyxes or grow your own. It is a very easy and rewarding plant to grow. This drink is great for parties, a nice soda-alterative and refreshing on a hot summer day.
Sparkling Roselle Drink

Makes 8 servings
Boil for 20 minutes:
• 4 cups water
• 1 ½ cups roselle calyxes
• 2 to 3-inch piece of ginger, thinly sliced
Add and stir until dissolved:
• 1-2 cups sugar (to taste)
Add:
• 10 cups sparkling water
serve over ice. Optionally, garnish with fresh mint or lime slices.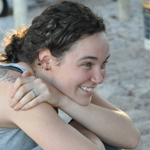 Post by Emily Jamison