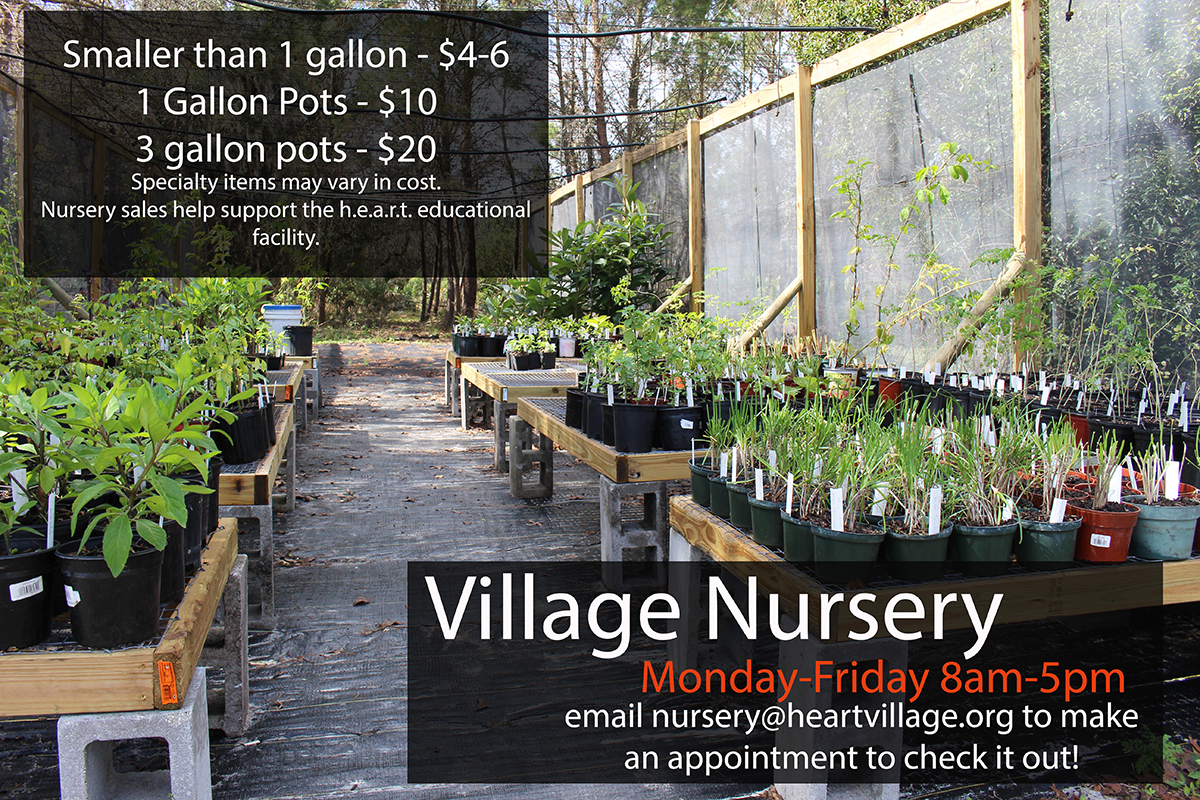 The h.e.a.r.t Village Nursery

offers unique edible plants from around the world, specializing in perennial vegetables and fruits. We aim to provide quality plants at affordable prices as a service to the community. The plants we offer are locally adapted and well-suited for edible landscaping, permaculture and community gardening. Nursery sales help support the h.e.a.r.t village educational facility which trains students to serve in poverty relief work and missions around the world.

Sales and tours are by appointment only. You can email nursery@heartvillage.org or contact  the h.e.a.r.t office at (863)-638-1188 to schedule an appointment.

Check first about availability if you are seeking a particular plant species. Plant availability is subject to change based on demand or time of year.
Currently available in the nursery:
Garlic Chives (Allium tuberosum)
Longevity Spinach (Gynura nepalensis)
Okinawa Spinach (Gynura crepioides)
Edible Hibiscus (Abelmoschus manihot)
Cranberry Hibiscus (Hibsicus acetosella)
Moringa (Moringa oleifera)
African Moringa (Moringa stenopetala)
Chaya (Cnidoscolus aconitifolius)
Spineless Nopale Cactus (Opuntia spp.)
Tindora Perennial Cucumber (Sterile) (Coccinea grandis)
Purple Ube Yam (Dioscorea violacea)
Cassava/Yuca (Manihot esculenta)
Katuk (Sauropus androgynous)
Mojito Mint (Mentha spp.)
Costa Rican Bush Mint (Satureja viminea)
African Blue Basil (Ocimum kilimandscharicum x basilicum)
Cuban Oregano (Plectranthus amboinicus)
Guava (localized feral variety) (Psidium guajava)
Jackfruit (seedlings) (Artocarpus heterophyllus)
White Sapote (Seedlings) (Casimiroa edulis)
Turk's Cap Hibiscus (Hibiscus arboreas)
Fruiting Mulberry (Morus spp.)
Purple Passionfruit (Bounty) – Passiflora edulis)
Pepper Leaf (Piper sarmentosum)
Sugarcane (Saccharum officinale)
Loquat (Eriobotrya japonica)
Greater Galangal (Alpinia galanga)
Coming Soon –
Mexican Sunflower (Tithonia diversifolia)
Vetier Grass (Vetiveria zizanioides)
Lemongrass (Cymbopogon spp.)
African Mint Potato (Plectranthus rotundifolius)
Arrowroot (Maranta arundinacea)
Neem (Azadirachta indica)
Fig (Ficus carica)
Ficus glamorata (nematode resistant fig rootstock)
Banana (SH 3640, Dwarf Namwah, Dwarf Orinoco)
Surinam Cherry (Eugenia multiflora)
Chinese Timber Bamboo (Bambusa oldhamii)
Curry Leaf (Bergera koenigii)
Vegetable Fern (Diplazium esculentum)