Here is a recipe that I have developed for cooking mushrooms using some Asian flavors. This recipe is best with shiitake mushrooms but could be used for almost any type of mushroom including button and portabella mushrooms.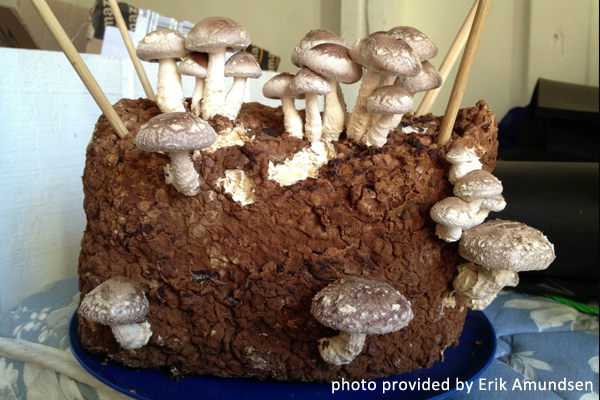 Shiitake mushrooms that Erik grew on recycled materials while studying at h.e.a.r.t.
Use 10-12 large fresh shiitake mushrooms or soak dried shiitake mushrooms in warm water for several hours until they're soft.

Marinade
¼ cup onion purée, or finely chopped onions
4 cloves of minced garlic
1 teaspoon minced ginger
1 chopped green onion
2 to 3 Tbsp soy sauce
2 Tbsp brown sugar
a pinch of ground black pepper
1 Tbsp toasted sesame oil
1. The stems of shiitake mushrooms are edible, but can be quite tough. It's up to you to use them or discard them.
2. Mix the marinade ingredients together and pour over mushrooms, turning to coat the mushrooms on all sides. Let the mushrooms sit for 30 minutes to 2 hours to absorb the flavor.
3. Preheat grill and place round side down over direct heat, drizzling some of the marinade into the gills of the mushrooms. Grill for 5 to 10 minutes.
*These can also be stir fried or baked but the flavor will best if grilled.
For more on Erik's experience with mushrooms, click here, here and here.
Erik is a garden enthusiast whose hobbies include cheese making, cooking, traveling and playing the mandolin. Erik and his wife, Kristina, completed the Spring 2013 term at h.e.a.r.t. and are preparing to serve as missionaries with the Covenant Church in Ecuador.