Affordable Solution for Haiti's Energy Crisis- The Hydraulic Jack Briquette Press
Eight years ago when I was a student here at h.e.a.r.t. there was only a fall term. Thankfully for my class, that meant we had the privilege of visiting ECHO for their annual conference. I'm afraid I don't have much of a green thumb. My garden plot was pretty sad compared to my wife's (fiancé at the time), so when I heard we were going to a conference at a farm I was less than excited. To my surprise, I did find the agricultural lessons interesting, but I was really drawn to their examples of Appropriate Technology at work.
One exhibit in particular that has always stuck with me was a briquette press made from recycled materials. The purpose of the press was to form sustainable briquettes with the ability to burn hot and long enough to boil water and cook over using discarded materials such as old newspaper, scrap wood, saw dust, and partially decomposed plant material.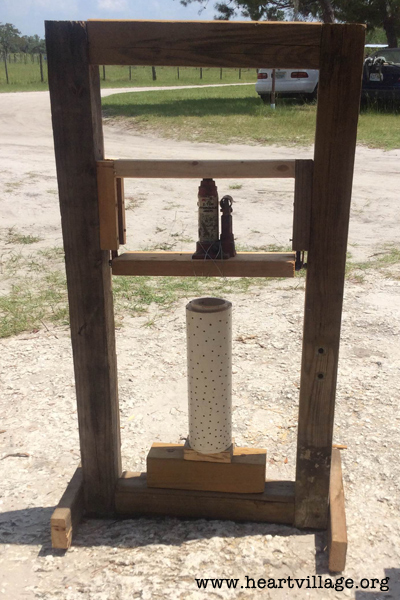 The goal of the briquette press is to provide a new energy source that burns more sustainably than charcoal.
Originally this press was developed for Haiti who has been suffering from a deforestation crisis which has led to many problems including that of how to heat their homes, boil their water, and cook their food. According to Phil Murphy this has cultural underpinnings that have led to the proliferation of these problems. Even though dry wood burns longer and would be more useful, it is seen as a poor man's energy source; so those who do not want to seem poor will use charcoal, which is far less energy efficient and requires ever more deforestation to sustain the process. The goal of the briquette press is to provide a new energy source that burns more sustainably than charcoal.
I recently constructed a working hydraulic press for the h.e.a.r.t. village. While there are other models of briquette presses that might be more appropriate for other areas of the world, I chose this particular design because of it's size, portability, and it's multi-use functionality. For instance, by switching out the PVC mold which holds the material being pressed, it's possible to use this press for other projects such as extracting oil from seeds, cracking nut shells, and any number of other potential uses.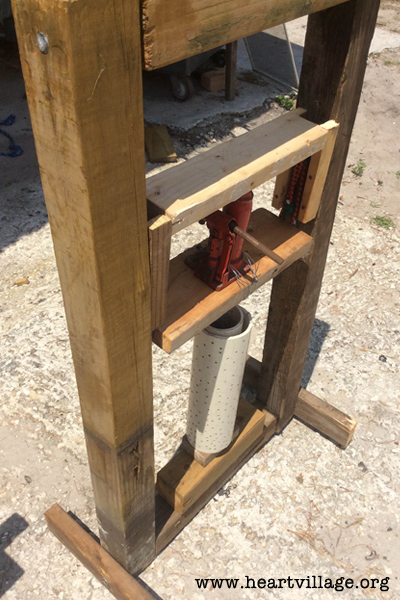 Tomorrow, I'll post a video describing the construction and use of the briquette press. For more information or answers to any questions email me at rebornjumpman@live.com