Members of Campers On Mission Sue and Steve Klein return to their home state of Indiana after spending their fifth winter here at the HEART institute as volunteer workers.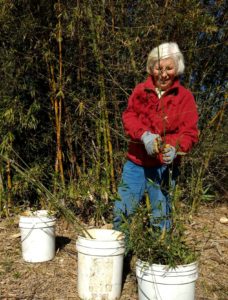 "We pray every morning for this place and the people here" Says Sue emphasizing that prayer is an integral part of their ministry.
As well as praying for the people who make HEART the special place it is, both Steve and Sue actively participate in the HEART community, sometimes hosting get-togethers with the students; the girls having tea with Sue, and the guys having coffee with Steve.
Along with participating in the HEART community, Sue and Steve have contributed a lot of work over the past five years to develop the ever-changing village. But in truth it's the mission of HEART that they love.
Steve recalls a story of when he was working on the electric system for our fish tanks that a trench had to be dug to lead electrical wiring to the pumps. After digging a significant amount with the help of some other campers who were volunteering at that time he had to go into town. While he was gone some of the students went out in the rain and finished the trench for them, so that when he had returned all of the work had already been finished.
Steve tells that story with a twinkle in his eye and a large satisfied grin. Both Sue and Steve said the reason they keep coming back to HEART is because they love HEART's goal of training students to engage the mission field.
Steve and Sue are quite familiar with what the mission field is like all around the world. They got married 52 years ago on Jan. 1rst, of 1966, and have been working for ministry in one form or another for a long time.
Steve graduated from Perdue University with a Horticulture degree and Sue got her RN from a three year program before they joined the rural community development division of the Peace Corp and spent two years in Paraguay (a country in South America with a climate similar to Central Florida's).
Afterwards Sue worked in pediatrics for a couple of years before having their first of two children. She later worked home health field for about 10 years as well as quality assurance.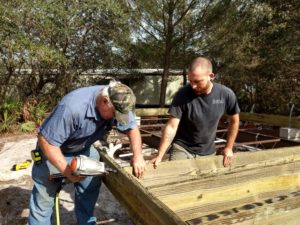 Meanwhile Steve worked on a farm for more than 20 years before retiring from that and becoming a carpenter with some electric work as well.
The couple met some people who were part of Campers on Mission while at a church camp near their work. Intrigued they signed up for the organization and began doing volunteer projects together. Then in the winter of 2012-2013 came to HEART as Campers on Mission for the first time.
Sue and Steve are not the only volunteers who work with HEART on a regular basis. The people who volunteer at HEART are more than just organization to worker relationships to us. To us, people like Steve and Sue are good friends that we just can't wait to see again.
Want to be a part of the HEART community? Check out our Get Involved page for lots of great opportunities to participate in what we're doing, or if you think HEART might be your next great adventure, consider becoming a student in our next class of missionaries for Christ. Click here for more info on our regular 15 week program or our shortened 3 week program.