If there is a comfort food that I love it's pasta. I think I could eat it everyday and never get tired of it. Dress it with veggies, sauce it a billion different ways, bake it, the list is endless. So naturally, my love for pasta led me to discover a simple recipe for making homemade pasta. Thank you, Pioneer Woman, for such an easy recipe.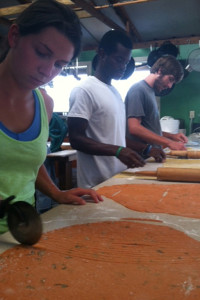 This is a basic egg noodle and what I like to call "quick" pasta. You simply make the dough using flour and eggs, let it sit for a little bit, roll it out, cut it, cook it, and enjoy it! But of course, I couldn't stop with just the basics. Thanks to a local pasta shop in my hometown, I was inspired to play around with the idea that you should season the pasta not just the sauce!! Every now and then I get a good idea and this was one of them. I tried a few different ideas such as: black pepper, garlic, tomato basil, and lemon pepper. All have been a success and delicious. If you season the pasta well you don't even need sauce just a little melted butter with garlic and herbs then top it with a little lemon juice. You won't be disappointed. This is a great trick to have in your back pocket. It's cheap, easy, delicious, and fresh.
We made 3 pastas: original pasta, seasoned with garlic, salt, and pepper pasta, and tomato basil pasta. And to go with it we made 3 sauces: basil pesto made with fresh basil from our garden, a creamy alfredo sauce and an easy marinara.
A few hints:
-If you want to season the pasta with herbs and spices add the seasoning to the flour before adding the eggs. This helps to distribute the seasoning evenly.
-For tomato basil pasta use tomato paste and fresh basil. Because of the extra liquid from the tomato paste you will need to compensate with extra flour.
-Have fun and cook for your taste buds. The options are limitless.

post by Ashley Carter