There are three members in my family. Two of them have sensitive skin. While there are plenty of laundry detergent options here in the U.S., this was quite a challenge while we were living overseas. Most soaps in Tanzania are harsh–full of fragrances and powerful cleaning agents that didn't work for our sensitive skin. Whenever we traveled to one of the big cities in Tanzania (over 5 hours away each way), we'd stock up on the ridiculously expensive powder soap that was advertised to be gentle enough for a baby. It worked. We didn't break out in painful rashes. But it cost an arm and a leg. There was no way around it. There wasn't another option. Had I known how easy (and CHEAP) it is to make homemade laundry detergent that smells great and is gentle on my family's skin, I would have saved the precious space in our luggage to take the simple ingredients with me. This recipe would have literally saved us hundreds of dollars.
A friend taught me to make this laundry soap over a year ago. This is my second batch. I shared some of my soap with a couple of friends who wanted to try it and 1 batch still lasted me a full year. My friend got the recipe from a friend who got it from a friend who got it…you get the picture. I'm not sure who the recipe originated with.
We like the scent of this laundry soap as is, but you can also add essential oils if you prefer a different scent. Some suggestions include Rosemary, Lavendar or Tea Tree Oil (10-15 drops/2 gallons).
All you need is 3 ingredients which are easy to find in the laundry aisle at your local store plus a 5 gallon bucket and hot tap water.

Three simple ingredients. That's all it takes.
Arm & Hammer Washing Soda (NOT Baking Soda) = $3.97
Borax = $3.97
Fels-Naptha Soap = $0.97
Since you only use a small portion of each the washing soda and borax per batch, I estimate that 1 batch of soap costs approximately $3 to make. Did you catch that? $3 for an entire year of laundry soap.
1. Grate the bar of Fels-Naptha with the coarse side of your cheese grater.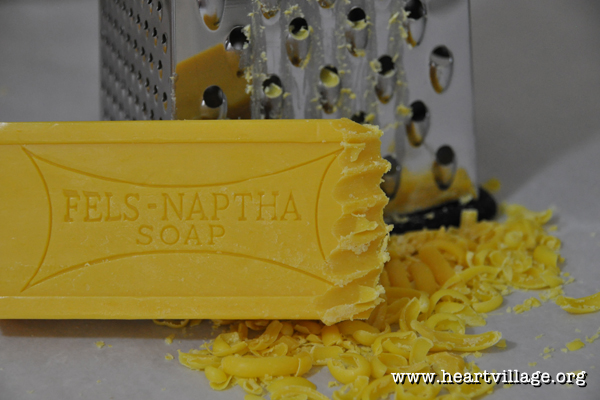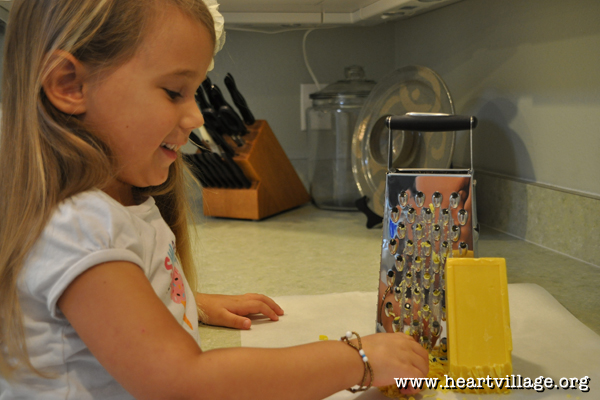 My little lady says the Fels-Naptha smells like donuts…
2. Add the grated soap to 4 cups of hot tap water.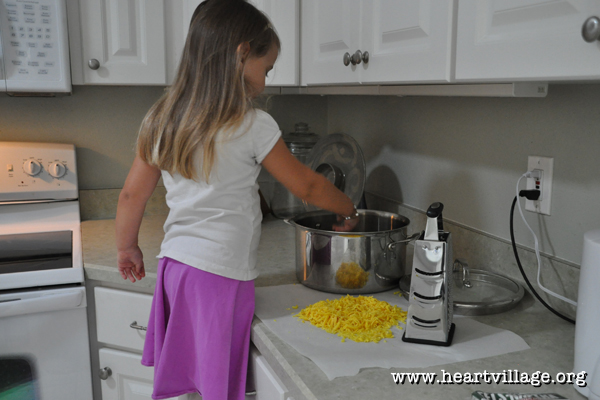 She loved being able to help me with this project.
3. Stir the mixture on medium-low heat until all the soap has melted.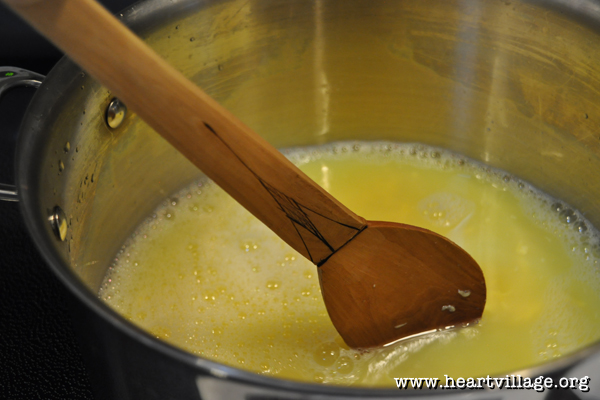 Side note, this wooden spoon is one of my most used treasures from our time in Tanzania. I love the wood
burned designs and the extra long handle.
4. Fill a 5 gallon bucket halfway with hot tap water.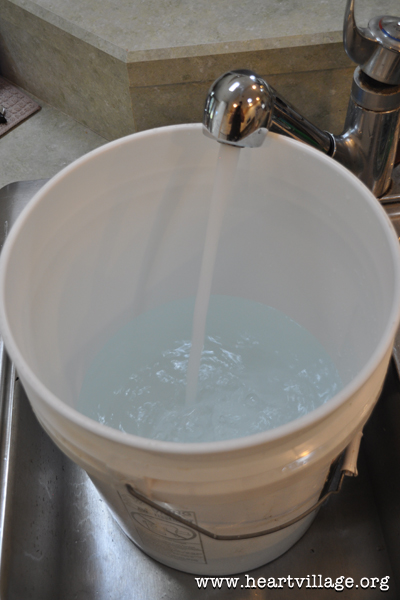 5. Add the melted mixture and stir.
6. Add 1/2 cup of the Borax.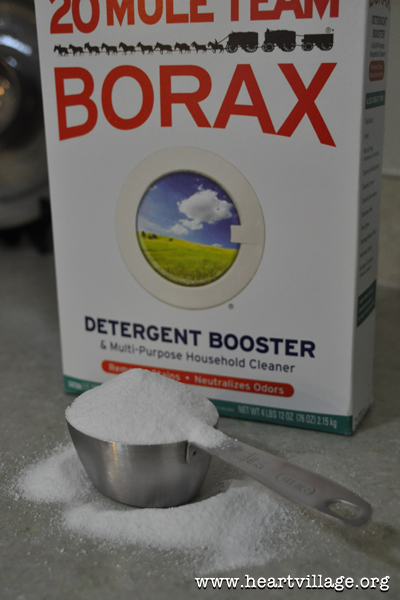 Based on the spill on the counter, you might assume that my 3 year old
was the one who measured the Borax…but nope, that was all me.
7. Add 1 cup of the Washing Soda.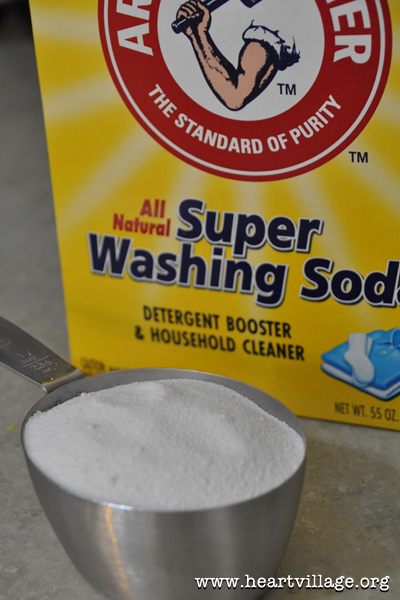 The washing soda is really caustic. Be careful not to let it touch your skin.
If it does, wash it off immediately.
8. Continue stirring until all the powder dissolves.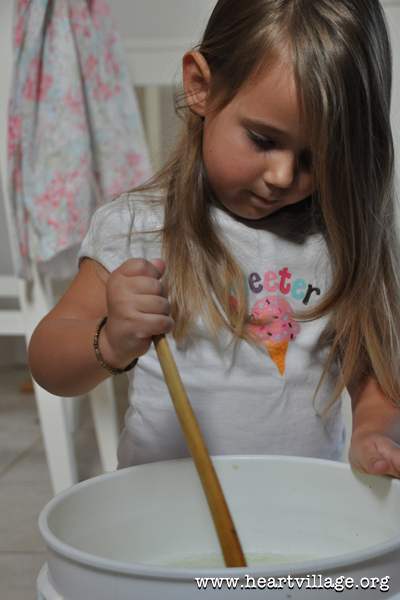 9. Fill the bucket the rest of the way with hot tap water and stir again. If you are using essential oils, all the mixture to cool slightly and then stir in the oil.
10. Cover and allow the mixture to sit undisturbed overnight.
11. The next day, the soap will have congealed. Stir vigorously or squish it with your hands until it's incorporated. Using a ladle and a funnel, fill a bottle about halfway with the detergent. Add water until the bottle is about 3/4 full.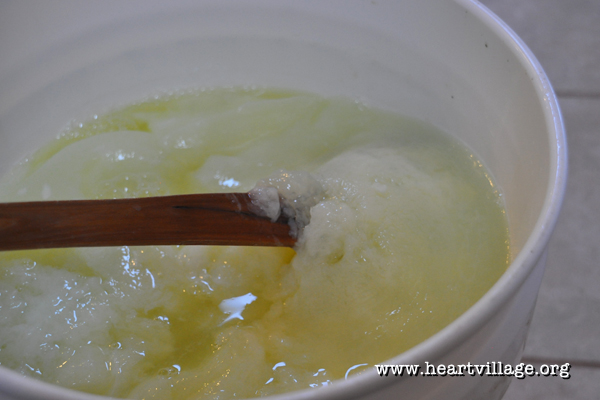 12. The soap will separate as it sits. Shake well before each use.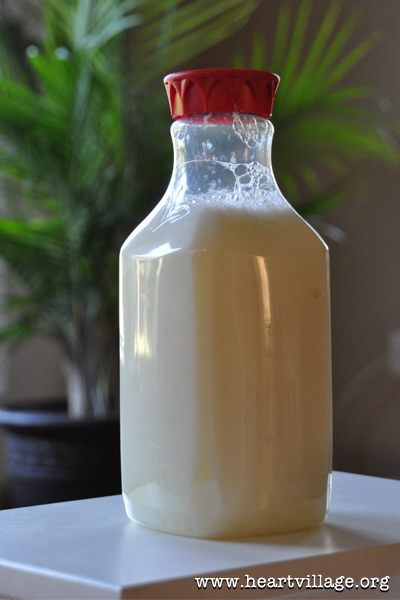 The final product. I store the large batch in the covered 5 gallon bucket
and work from this smaller bottle, refilling it as necessary.
For a front loading machine, use 1/4 cup (approx 640 loads)
For a top loading machine, use 5/8 cup (approx 180 loads
Click here for a printable version.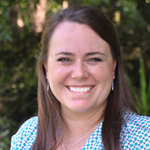 Post by Heather Webb