It was the day that everything changed. It was a phone call. Phone calls can do that, you
know. Phone calls can have the power to change the trajectory of a life. This one did.
As I listened to my husband's side of the phone call, I could hear the excitement in his
voice. And I could feel the pit in my stomach growing heavier and heavier. A job offer.
Right then and there we were getting offered a new job. He's always been the visionary
and I've always been the practical one. He's always been the one who's optimistic about
the next chapter of life and I just want the current chapter to last a little longer. He got
off the phone with a smile on his face and I started to cry. I pretty much cried from
Thanksgiving until Christmas.
The Old Testament book of Joshua begins with God charging Joshua to be strong and
courageous as he embarks on a new chapter of life. Joshua had been tasked to lead
God's people into the land that God had promised to them years before.
Joshua wasn't unfamiliar with the Promised Land. In fact, he had been one of the twelve
spies that Moses sent on a recon mission years earlier. The spies came back with mixed
reports. Joshua and Caleb declared that the land was extraordinary. The soil was fertile.
The fruits were huge and delicious. It was like the land was flowing with milk and
honey. The other spies saw something different. They saw that the cities were huge and
the walls of the cities were fortified and strong. They saw that cities were inhabited by
giants who were so strong they could practically eat the Israelites alive.
They were both right. The inhabitants were huge. The cities were fortified. The land was
fertile. The fruit was abundant. It was a matter of where they put their focus and in
Whom they put their trust.
This job offer put Mike and I at the edge of the Jordan River. When he looked across he
could see the milk and honey. He could see the opportunity to live cross culturally again.
He could see the fruit of raising our daughter to speak a second language. He could see
the fertile soil of strengthening relationships with Tanzanians that we spent 6 years
building.  When I looked across the river, all I could see were the fortified city walls and
the giants that would have to be conquered. What will we do with our house that we
just bought? Will I be good at homeschooling our daughter? What would it be like to say
goodbye to our families again and for Maddy to say goodbye to her family and friends
that she's grown to deeply love over these past two years. 
We're both right. There will be joys. There will also be challenges. Mike and I balance
each other out that way and help one another see a fuller picture than we'd see on our
own. But it's a matter of where we put our focus and in Whom we put our trust. So,
with eyes wide open to the joys and challenges, we've accepted a new role as Regional
Coordinators for Africa with the Church of God. Since we moved back to the US in 2012,
I've often joked that it would take the work of the Holy Spirit to get me to live overseas
again. Well, He's worked and now we're moving overseas. And I couldn't be more excited.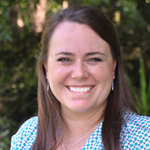 Post by Heather Webb