What do h.e.a.r.t. students do when they leave the village? Today, I share this personal letter with Rachel's permission. Catch a glimpse into her cross-cultural transition and her experience putting into practice the things she's learned at Covenant College and at h.e.a.r.t
---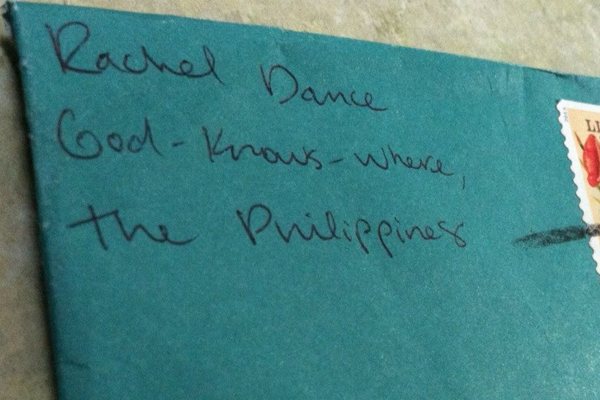 Dear Heather,
Just wanted you to know I was thinking about you! Here's an update on how things are going so far all the way in Southeast Asia…
The first two weeks we ("we" meaning the other intern from Covenant—Joey—and I) lived in the heart of Manila, the capital of the Philippines. Oh my word, I cannot even express how much I loved being there. I lived right beside the head office of the organization we are working for, which is called CCT, or Center for Community Transformation. CCT has about 8 different branches and we are working with the Kaibigan Ministry, who works with street dwellers. CCT has been taking really good care of us. I am so thankful for them because they want us to understand everything about their work; as such, we have visited a lot of different areas surrounding Manila, in order to get a sense of the entire intervention process for street dwellers.
The first week, we followed around the two leaders of the Kaibigan Ministry who go to the streets and preach the gospel and share food every day. Their names are Pastor Jun and Kuya Angel ("Kuya" a respectful title for an older man). They are some of the most wonderful men I have ever met. They are so kind and loving, and powerfully filled with the Holy Spirit. I'm glad we were with them, because everywhere I go, people always stare (and sometimes point) at me because I'm a foreigner (Joey is Chinese, and could almost pass for a Filipino, so he doesn't attract as much attention). People are always very happy to meet me—they are very welcoming and smile a lot—but when I'm just walking, it's a little unnerving to have people watch everything I'm doing.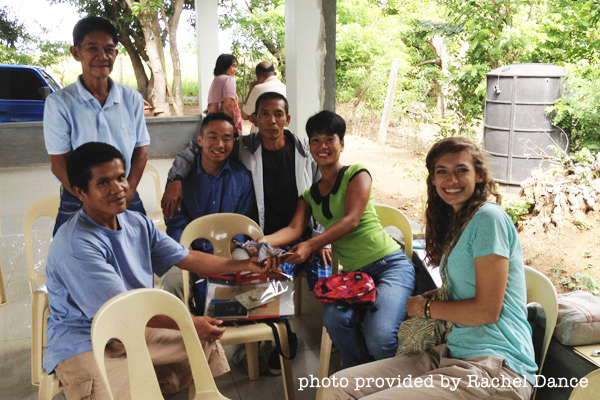 Rachel attends a savings meeting. The meeting is led by former street dwellers who have been able to get off the streets through the ministry of the Center for Community Transformation in Manilla, Philippines
A big portion of each day was just spent traveling. We have mainly been riding the public transportation called a "jeepney" (a refurbished military vehicle left over by the Americans after WW2), which I really enjoy. The back is open, so you just hop inside, pay the driver, and say "para po" whenever you want to stop. Riding them is a great way to get a feel for the city. I haven't really spent much time in a city this huge before, so all the traffic, the noise, the people, and the pollution, were a little overwhelming at first.
We didn't spend more than an hour at each feeding site (2 sites per day), but we were able to see the conditions in which people lived. It's difficult to describe; I've had a hard time trying to express it to people. I can just list everything:
thin, dirty bodies, bare feet, missing teeth, cardboard beds, mismatched, tattered clothes, skin diseases, but how does this actually describe what it's like to live on the streets? I still don't really know what daily life is like for them. I know many people scavenge for food out of trashcans, beg for money, sniff solvent in order to escape from hunger pangs; but how people view themselves, their life, other people, and God are difficult concepts to translate, and this is what I really wanted to understand.
In 4 days, the four of them taught me more about what community development means in reality than I ever could have learned studying textbooks alone.
Each day we went back to the Kaibigan Center, where the leaders' office is located and which also functions as a sort of a temporary safe haven for people to get rest from the streets, eat a meal and take a shower. Sunday night of our second week, Joey and I spent the night here in order to leave at 4 am the next morning to join the 4-day, bi-annual Kaibigan Retreat. We took 30 street dwellers (who are called "kaibigans", which means "friend" in Tagalog) 3 hours outside of the city to a kind of resort by the beach. Here we played games, ate mangoes by the dozen, swam a lot, listened to sermons and had small group time. In addition to Kuya Angel and Pastor Jun, two other pastors helped lead the trip: Pastor Raffey and Pastor Noel. In 4 days, the four of them taught me more about what community development means in reality than I ever could have learned studying textbooks alone. Many of the kaibigans responded to the gospel presentation, but their involvement with CCT doesn't end after the retreat. At the very end of the week, each person wrote down their plan for the future, and the leaders will continue to follow up with them. Many will stay in the Kaibigan Center and will be discipled. Ten of them were given jobs at a construction site, run by CCT.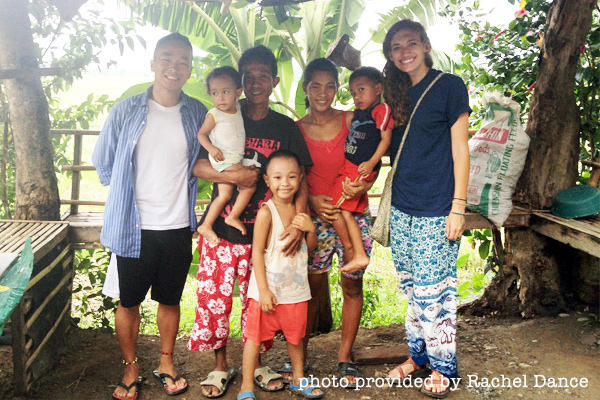 Rachel with a family of former street dwellers. This family now lives and learns at the Kaibigan Village farm.
Now, we are just finishing our third week, and we are 3 hours outside of Manila, in a city called Cabanatuan, where we will stay for the next two months. You may remember me telling you that I will be working on a farm? Another aspect of the Kaibigan Ministry is the Kaibigan Village, where people can come and live and work. I am living in a small house about 5 minutes away from the Village, with our supervisor, whose name is also Rachel. The house consists of a kitchen, a small open room where we eat and do work, a bathroom, a bedroom, and thankfully, wifi. Rachel is one of the leaders of the Kaibigan Village, but just started this job two weeks before we did, and is still learning a lot. So, for the next two months we will be doing research about a forage bank for goats and the construction of a new pigpen.
How are things going at h.e.a.r.t? I have been so happy to see how my experience at h.e.a.r.t. has helped prepare me for my time here, both my time as a student, and as an intern. Toilets flushed with buckets of water, eating fish, eating with my hands, living in really small houses…the list goes on and on. I've been comforted to see moringa everywhere—even a tree right outside of our house that we've been eating from!
I miss you so much! Please give my love to everyone.
Love always,
Rachel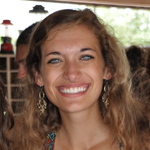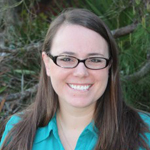 Post by Rachel Dance and Heather Webb
Rachel is a 2012 alum of h.e.a.r.t. and served as an intern in 2013. She is currently completing a 2 month internship in the Phillipines as a part of her Community Development degree at Covenant College.